I guess I should update about our housing situation.
We've been in negotiations for this house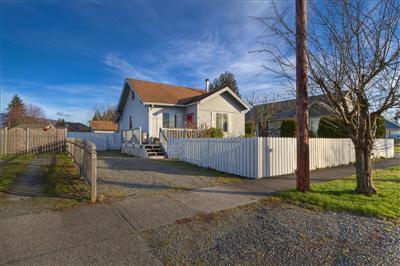 We got mutual acceptance for $180,000... It is right in the middle of town, backs to a playfield of an old elementary school and has a good size back yard. It is 1350 sq ft with 3 bedrooms and 2 baths. It obviously needs some work, a lot of work, but that's what I am for.
But upon our inspection last week (3/11/10), we found tons of things wrong with it. The roof is in REALLY rough shape, as in needs an entire new roof; all the electrical needs updating and so does the plumbing; and the front of the house is starting to sink so it needs new footings poured.
Pretty much, this house will never be able to be funded by a bank unless they fix this stuff because it just won't appraise. So, we wrote up our inspection report and are asking them to fix pretty much EVERYTHING. So today they are bringing in contractors to see how much it will all cost. So, they have til Tuesday at 9pm to let us know what they have decided.
If they don't fix everything, we will be walking away and getting our earnest money back. A few other better properties have come on the market since we made an offer on this one, so I am almost hoping that they don't want to fix it, but either way, I'm just happy to get a house.
But I am praying God's will be done.
WEIGHT LOSS:
I finally dropped below my 172 plateau. Was 171.0 this morning... 11 lbs to go! But my BMI is 24.5, finally in the "normal weight" range. Wahoo!!